Irritable Bowel Syndrome or IBS is characterised by a range of symptoms that generally mean a regularly upset stomach and abdominal pain. It can be very disruptive to day to day life and is very commonly misdiagnosed and mistreated.
Often IBS is the "go to" self diagnosis or diagnosis given by those who are only partially informed about the complexities of the gut. As with any ailment, accurate diagnosis is crucial in the treatment and management of any ailment. Obtaining an accurate diagnosis can be the difference between lifelong symptoms and a life without symptoms – or at the very least, manageable symptoms.
Irritable Bowel Syndrome as a diagnosis is bloating, cramping and altered bowel habits, without underlying organic disease. It is crucial to note the "without underlying organic disease" as IBS is often applied as the diagnosis and a treatment plan put in place when these symptoms can appear across a number of other underlying conditions, which are treatable – and if treated correctly, can result in no ongoing symptoms. This is where accurate diagnosis by a Gastroenterologist can be of such value, as a life without symptoms is certainly the goal.
​Symptoms of Irritable Bowel Syndrome
IBS symptoms and severity, like any ailment, range from patient to patient. Some of the common symptoms in IBS patients are:
Bloating
Cramping
Pain in the abdomen
Altered bowel habits
Diarrhoea or constipation (or alternating between)
​Treatment
As previously mentioned, accurate diagnosis of IBS is crucial in providing an effective treatment plan. As IBS symptoms can be confused with other underlying conditions, misdiagnosis can result in treatment plans that do not provide the most relief available.
Often patients who begin to experience digestive issues and other gut related issues, is to begin removing foods from the diet. Whilst this may be the treatment method for say, a diagnosed coeliac, removal of foods without accurate diagnosis can result in at least nutrient depletion – and at worst, it can mean the true underlying condition is not treated, which in some cases can be quite severe.
If the condition is accurately diagnosed as IBS, then treatment can range from dietary modifications, which are specific to the individual, through to medications.
Whilst IBS can be very uncomfortable, it fortunately does not cause any alteration or damage to the gut – and does not increase the risk for cancer.
If you would like to read more about Irritable Bowel Syndrome, please refer to the GESA Fact Sheet on our fact sheet page.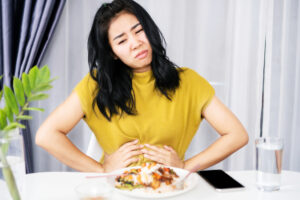 What are the causes of stomach cramps after eating?
Find out why you get abdominal cramps after eating